Motus AX Laser Hair Removal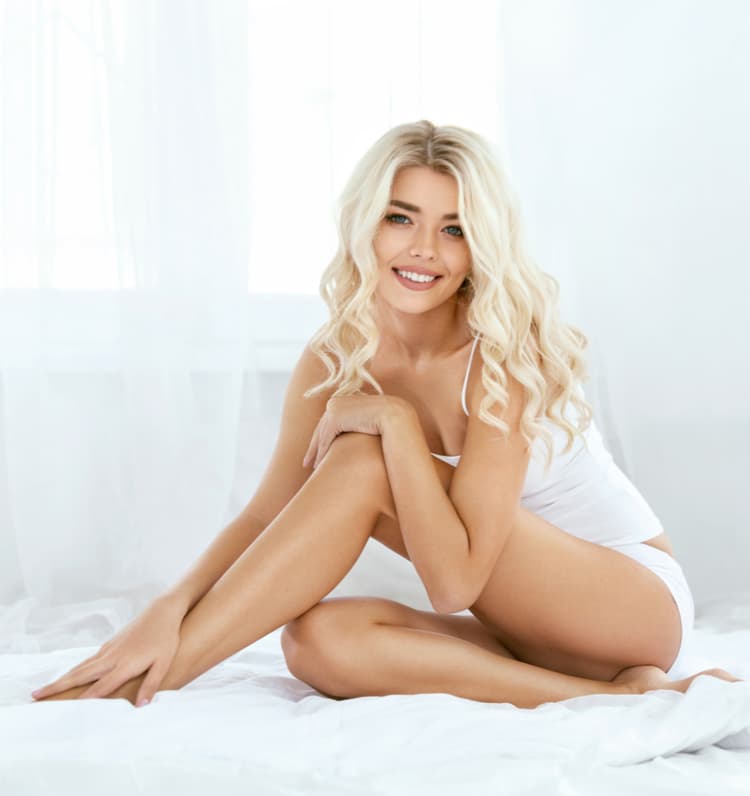 Laser Hair Removal For All Skin Types In Baltimore
Dr. Sarah Mess is proud to provide highly effective and safe permanent hair reduction for all skin types and tones at her medical spa in Columbia, MD. Manufactured by a leading cosmetic laser manufacturer in Europe, the Motus AX Motus platform is a groundbreaking high-speed laser that is painless, fast, and can most effectively treat a comprehensive range of skin types.1 If you are seeking smooth skin but want to avoid waxing or shaving, then laser hair removal can greatly benefit your life.
Schedule Your Consultation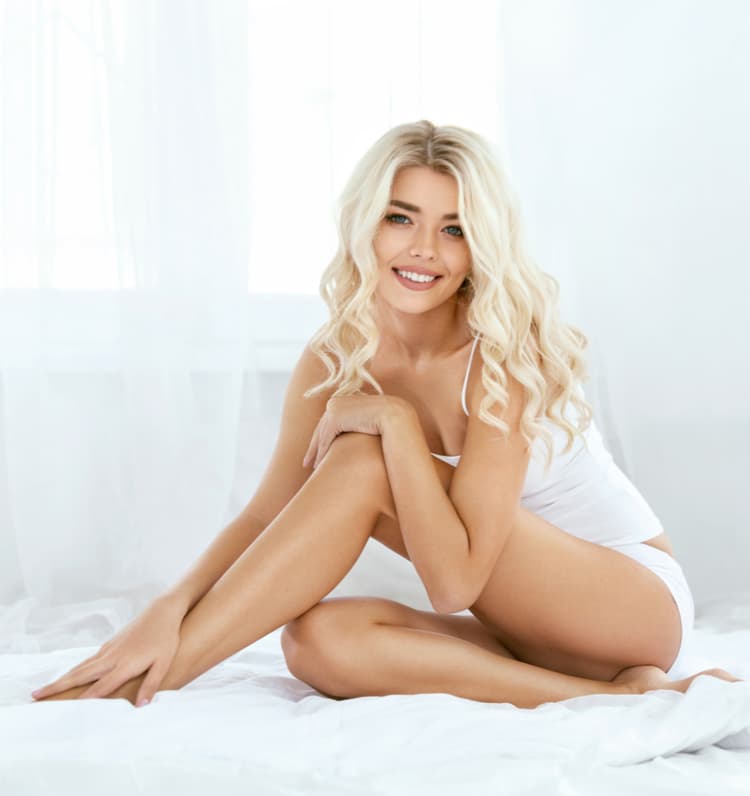 How Motus AX Works
The Motus AX Laser is a painless hair removal device that relies on revolutionary technology to bolster the advantages of traditional lasers while overcoming their limitations. Motus AX works by gradually delivering heat into hair follicles to effectively destroy them while a sapphire tip cools the treatment area for a pain-free hair removal session.
Good Candidates for Motus AX Laser Hair Removal
Traditional hair removal lasers use quick bursts of high energy to target the melanin inside the hair shaft. They are most effective on dark, coarse hair and lighter skin. Traditional lasers work, but treatments can be painful and special precautions are required when treating darker skin types. Motus AX solves these problems with a patented device that enables 100% energy absorption for double the energy transfer of standard laser hair removal machines. Motus AX destroys hair by gently heating the hair follicle with repeated low-energy passes for fast, pain-free hair removal for all skin types. With the revolutionary Motus AX Laser Hair Removal device, all patients can achieve excellent laser hair removal results with fewer treatments.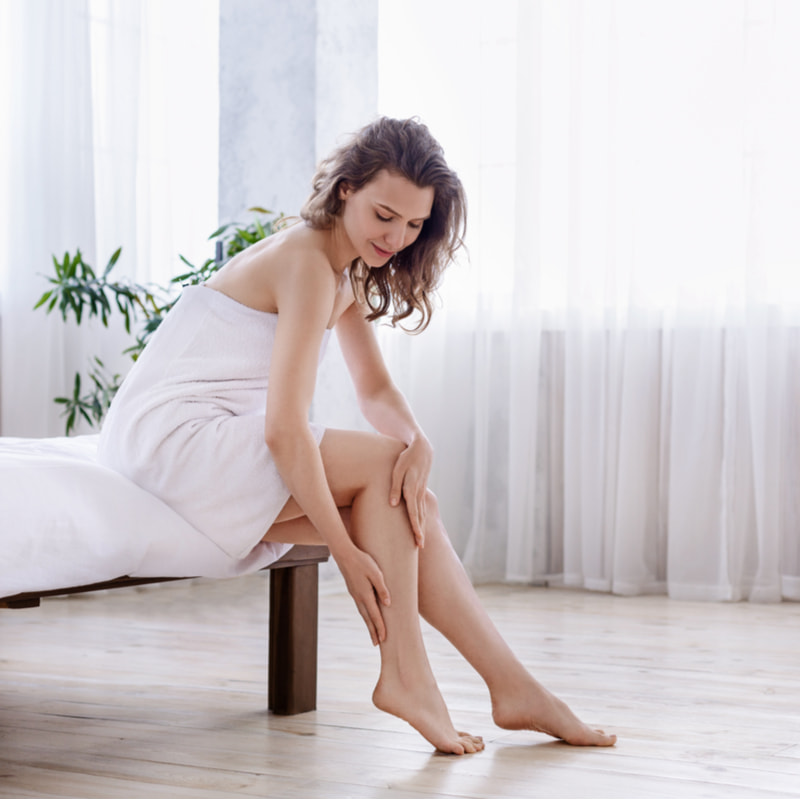 How Many Treatments Are Required?
The number of Motus AX laser hair removal treatments you'll need can vary depending on factors such as your hair type, the area being treated, your skin tone, and your individual response to the treatment. The Motus AX laser is known for its efficiency and effectiveness in delivering hair removal results. Typically, multiple sessions are required to achieve optimal and long-lasting results. On average, most individuals can expect to need a minimum of six treatment sessions spaced approximately 4-6 weeks apart. However, it's important to note that this is a general guideline, and the number of treatments can vary based on individual factors.
Fast & Painless Laser Hair Removal
Motus AX treatment eliminates painful snapping sensations typical of other devices because it utilizes a staged thermal heating process.2 Additionally, the increased spot size allows large areas to be effectively treated in less time. Finally, Motus AX's sapphire tip integrates contact cooling to further provide unrivaled comfort.

Motus AX Packages
Package Pricing for One Small Area | $600
Choose from:Upper Lip, Chin, Sideburns, Glabella (between the eyebrows), Areolas, Belly button to the pubic area, Neck (front or back)
Package Pricing for One Medium-sized Area | $1,200
Choose from: Lower Face, Shoulder, Under Arms, 1/2 Arms, Bikini Area
Package Pricing for One Large-sized Area | $1,800
Choose from: Full Arm, Face, Brazilian Bikini, Chest, Upper Back, Abdomen, 1/2 Leg
Package Pricing for One XXL-sized Area | $3,000
Choose from: Chest & Abdomen, Full Back, Full Leg
Personalized Packages For Motus Laser Hair Removal
Are you seeking permanent hair removal? Contact us today for a personal package designed for your unique needs.
How to Prepare for Laser Hair Removal With Motus AX
The first step is scheduling a personal consultation at our med spa with a laser hair removal specialist to determine if Motus AX is appropriate for your goals. To ensure the best possible outcome, please make sure to:
Avoid Any Direct Sunlight
Prior to laser hair removal, it's important to avoid direct sun exposure and wear sunscreen daily on the areas being treated with Motus AX.
Don't Wax, Pluck, or Have Electrolysis Treatments
You should shave the area being treated two days before your Motus AX treatment. However, it's important to avoid other methods for removing hair for one month before your Motus AX. This includes all waxing, plucking, and treatments like electrolysis as they reduce the effectiveness of Motus AX.
Avoid Blood-Thinning Supplements & Medications
Refrain from taking blood-thinning supplements and medications the week before your treatment, including NSAIDs and MAOIs.
I can't express how much I love Dr. Mess's office enough! The staff is so friendly and smart, they are always so organized, and the office is extremely clean and relaxing. I have done botox, fillers and laser hair treatment (most recently on their new MOTUS AX machine and hair removal was 100% painless!). They have the latest in new treatments and technology and I always feel confident that I'm in the best care! I recommend everyone book your appointment with Dr. Mess! You will be so glad you did.
Amy - Google
Motus AX Laser Hair Removal Aftercare
After your treatment, feel free to resume your regular activities right away. However, it is vital to steer clear of sun exposure and tanning beds for a minimum of three weeks post-treatment.
Ready for Painless Laser Hair Removal?
Explore the painless solution for lasting smoothness that works for virtually all hair and skin types and tones in a personal consultation. Contact our medical spa to get started!
Sources
Dr. Sarah Mess has either authored or reviewed and approved this content. Page Updated