Motus AX Laser Hair Removal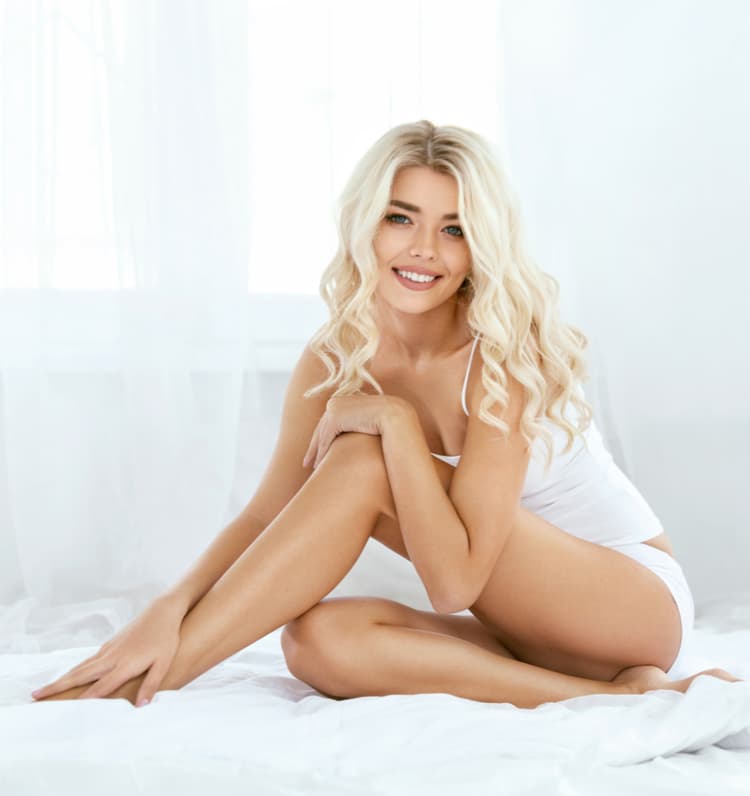 Dr. Sarah Mess is proud to offer highly effective and safe permanent hair reduction for all skin types and tones at her medical spa in Columbia, MD. Manufactured by Europe's top aesthetic laser manufacturer, the Motus AX Motus platform is a groundbreaking high-speed laser that is painless, fast, and more effective for the widest range of skin types—more than any other laser hair removal treatment currently on the market.1 Motus AX is also highly effective for treating pigmented lesions. If you are seeking smooth skin but want to avoid waxing or shaving, then laser hair removal can greatly benefit your life.
Schedule Your Consultation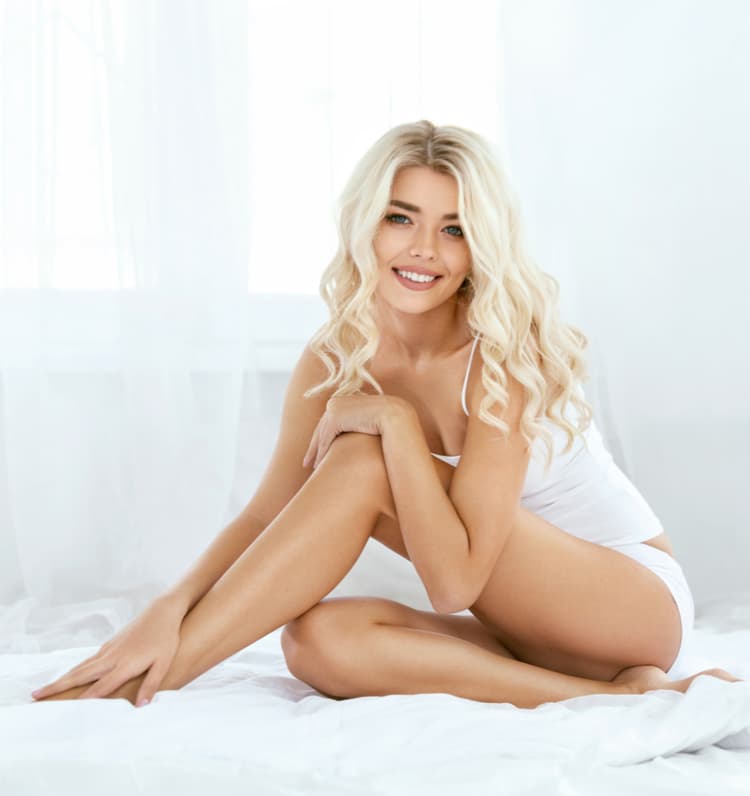 How Motus AX Laser Hair Removal Works
The Motus AX Laser uses breakthrough Moveo technology developed to overcome limitations associated with traditional lasers while retaining all of the advantages. As the Motus AX wand moves over targeted areas on the body, it gradually delivers enough heat directly into the hairs to destroy the follicles without damaging the surrounding skin. Treatments with the Motus AX Laser Hair Removal device are safe and comfortable due to the device's cooled sapphire tip.
Best Candidates for Motus AX Laser Hair Removal
Traditional hair removal lasers use quick bursts of high energy to target the melanin inside the hair shaft. They are most effective on dark, coarse hair and lighter skin. Traditional lasers work, but treatments can be painful and special precautions are required when treating darker skin types. Motus AX solves these problems with a patented device that enables 100% energy absorption for double the energy transfer of standard laser hair removal machines. Motus AX destroys hair by gently heating the hair follicle with repeated low energy passes for fast, painfree hair removal for all skin types. With the revolutionary Motus AX Laser Hair Removal device, all patients are able to achieve optimal laser hair removal results with fewer treatments.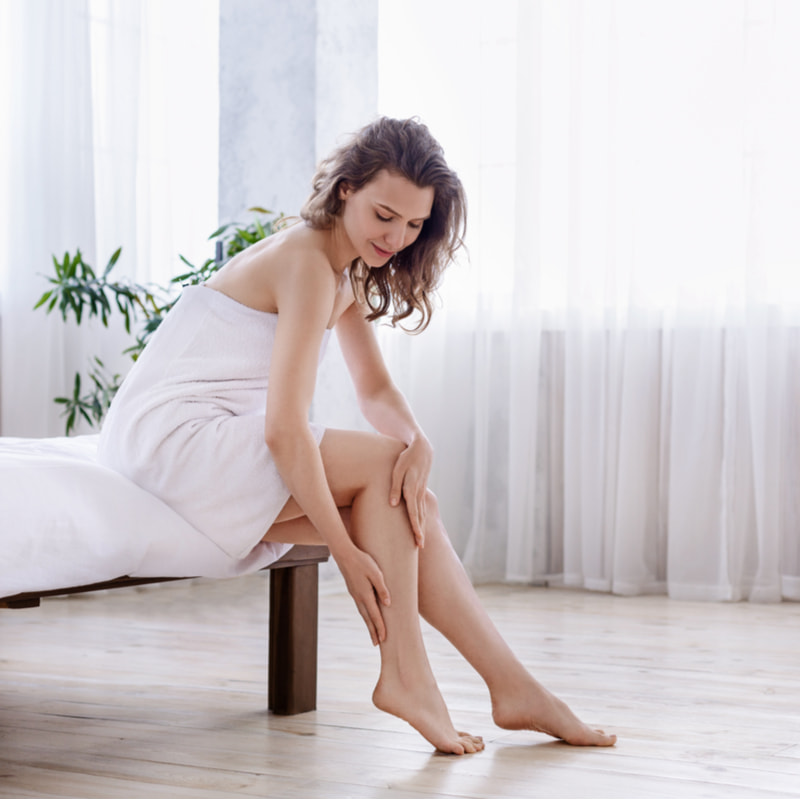 How Many Motus AX Laser Hair Removal Treatments Will I Need?
Because hair grows in cycles, the total number of treatment sessions required to completely eliminate hair depends on the individual and their cosmetic goals. Because of how effective Motus AX Laser Hair Removal is compared to traditional laser hair removal methods, most patients generally need fewer sessions in their initial treatment package and can wait longer before requiring a touch–up session.
Painless & Fast Laser Hair Removal
In addition to being the fastest, the Motus AX is also the only laser that uses gradual thermal heating and therefore eliminates the uncomfortable "rubber-band" snapping sensation
Trusted Source Motus AX & AY Cartessa Aesthetics Go to Source common to most laser hair removal devices . Instead, Motus AX Laser Hair Removal treatments are quick and comfortable. The larger spot size means even large areas can be targeted and treated in less than 5 minutes. The Motus AX also features contact cooling integrated into a sapphire tip to add to the treatment's unmatched comfort.

Motus AX Laser Hair Removal Packages
Small Area Treatment Package
$600 | Upper Lip, Chin, Sideburn, Central Eyebrow, Areola, Belly Trail, Neck (front or back).
Medium Area Treatment Package
$1,200 | Lower Face, Bikini Area, Under Arm, Shoulder, 1/2 Arm
Large Area Treatment Package
$1,800 | Brazilian Bikini, Full Arm, Face
Extra Large Area Treatment Package
$2,400 | 1/2 Leg, Upper Back, Chest, Abdomen
XXL Area Treatment Package
$3,000 | Full Back, Full Leg, Chest & Abdomen
Custom Motus Laser Hair Removal Packages
Are you interested in permanently eliminating hair from multiple treatment areas? Contact us to have a customized laser hair removal package just for you.
Preparing for Motus AX Laser Hair Removal
Before your Motus AX Laser Hair Removal treatment, you will come in for an initial consultation at our med spa with a dedicated specialist to discuss your cosmetic goals and determine if you are a good candidate for this permanent hair removal method. Your provider will review your complete medical history including any prior cosmetic procedures and hair removal treatments, as well as any scarring, skin conditions, and medications.
To ensure a successful outcome for your Motus AX Laser Hair Removal, it's also important to ensure you follow these guidelines:
Avoid Direct Sunlight Before Motus AX
In the two weeks prior to your Motus AX Laser Hair Removal treatment, avoid unnecessary sun exposure whenever possible. In addition, while we always recommend wearing a broad-spectrum sunscreen daily, it's especially important leading up to a Motus AX treatment. Even if you're only treating your back or chest, you should still apply sunscreen to these areas as clothing does not provide 100% protection from ultraviolet radiation.
Don't Pluck, Wax, or Do Electrolysis Before Motus AX
It's also important that you do not use other hair removal methods in the month leading up to your Motus Laser Hair Removal appointment. This includes plucking, waxing, and electrolysis as it can affect the results of your treatment. However, we recommend that you shave the treatment area one or two days before your treatment as it removes hair above the skin and while keeping the underlying shaft intact.
Don't Take Blood-Thinning Medications Before Motus AX
It's important to avoid blood-thinning medications in the week leading up to your Motus AX Laser Hair Removal treatment. Blood-thinning medications include prescription MAOIs, over-the-counter NSAIDs, and some nutritional supplements. Your specialist will review all your current medications during your initial consultation to determine what you should discontinue taking to ensure optimal results.
I can't express how much I love Dr. Mess's office enough! The staff is so friendly and smart, they are always so organized, and the office is extremely clean and relaxing. I have done botox, fillers and laser hair treatment (most recently on their new MOTUS AX machine and hair removal was 100% painless!). They have the latest in new treatments and technology and I always feel confident that I'm in the best care! I recommend everyone book your appointment with Dr. Mess! You will be so glad you did.
Amy - Google
Aftercare Following Motus AX Laser Hair Remmoval
You can resume your normal activities immediately after your treatment, but it's critical that you avoid sun exposure—including tanning beds with harmful UV rays—for at least three weeks following your treatment.
Ready For Painless Laser Hair Removal?
Explore the painless solution for lasting smoothness that works for virtually all hair and skin types and tones in a personal consultation. Contact our medical spa to get started!
Sources
Dr. Sarah Mess has either authored or reviewed and approved this content. Page Updated